Get the Skills to Be a Professional Massage Therapist
7.5 Month* Massage Therapy Program in Vienna, VA
Jun 5th, 2023

Massage Therapy

: Day

American Massage & Bodywork Institute - Vienna

1593 Spring Hill Rd #210

Vienna

VA

USA

22182

Do you want to help others and work in health and wellness? Massage Therapy is a rewarding career for active, caring people who want to improve lives.

https://ambi.edu/wp-content/uploads/2023/02/ambi_massage-therapy-program-page.jpg

American Massage & Bodywork Institute

Jun 6th, 2023

Massage Therapy

: Night/Weekend

American Massage & Bodywork Institute - Vienna

1593 Spring Hill Rd #210

Vienna

VA

USA

22182

Do you want to help others and work in health and wellness? Massage Therapy is a rewarding career for active, caring people who want to improve lives.

https://ambi.edu/wp-content/uploads/2023/02/ambi_massage-therapy-program-page.jpg

American Massage & Bodywork Institute
Massage Therapists use their knowledge and the healing power of touch to help clients reduce stress, relieve pain, increase circulation, promote relaxation and pursue improved wellness.
AMBI's hands-on, accredited Massage Therapy program will provide you with the knowledge and practical skills needed to work in the growing massage industry. Upon successful completion of this program, you will be fully prepared to sit for the MBLEx state licensing exam.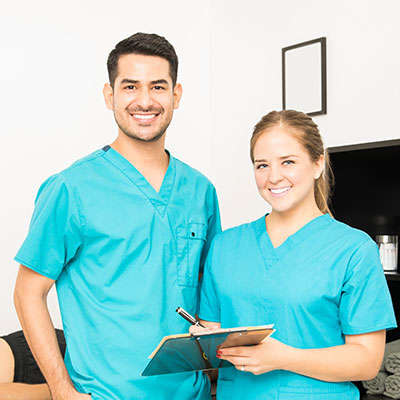 Massage Therapy
$46,910 median annual salary**
20% Job Growth Over Next 8 Years
Graduates hired by spas, hospitals, fitness centers, or are self-employed
1 Certification Track (MBLEx)
Advance and grow your practice in areas that interest you, such as rehabilitation, energy work, reflexology and more!
** https://www.bls.gov/ooh/healthcare/massage-therapists.htm#tab-5. Visited on February 10, 2023. Salary source for massage therapists with lowest 10% earning $24,450 to the highest 10% of workers earning $77,600.
The best way to see if AMBI Massage School is the right fit for you is to contact an admissions representative. Get more information on our programs, class schedules, and financial aid options so that you can make an informed decision about your future. Get more info or Book a Tour.
Become a Qualified Massage Therapist
The Massage Therapy program at the American Massage & Bodywork Institute will provide you with the hands-on training, industry certification prep and dedicated professional support it takes to pursue a successful career as a Massage Therapist in less than 1 year.*
Here's what you'll learn in AMBI's Massage Therapy school:
Anatomy
Physiology
Kinesiology
Pathology
Massage Theory & Technique
The Business of Massage
Basic CPR/First Aid Training
and more!
You will also create your own marketing and business plan; this will give you a competitive edge, as employers appreciate working with people who understand the business side of massage therapy, even if you don't plan on starting your own practice.
AMBI is one of only two schools in Virginia accredited by the Commission on Massage Therapy Accreditation (COMTA). COMTA is the only specialized accrediting agency for massage therapy approved by the U.S. Department of Education. COMTA has endorsed our curriculum, recognizing our program as one of the best in the country!
Get All the Important Details
Supportive, Flexible Schedules
Training can, and should, fit around your life. When you enroll at AMBI, you can choose between two different schedules:
Day Classes, Monday through Thursday from 9:15am – 3:00pm, or
Evening/Weekend Classes, Tuesday through Thursday from 6:00pm – 10:30pm, and Saturday from 9:00am – 6:00pm
The AMBI Massage Therapy program provides hands-on instruction 20 hours per week on-campus and 5 hours per week of online course work. Our hybrid classes allow you to focus on putting theory into practice while on campus.
New classes start every eight to ten weeks!
Tuition: $11,100
Books & Supplies: $850
Total Program Cost: $11,950
There are a variety of potential funding programs available to help support your education and career goals. At AMBI, we believe there should be no barriers to higher education and our team of financial specialists are here to help you navigate your options.
Financial Aid is available to those who qualify
Net Price Calculator
Here's what you will learn in the Massage Therapy program:
Career Opportunities
Being trained as a Massage Therapist opens the doors to many opportunities across the country. No matter if you want to stay in Virginia or practice in another state, there are both job and business opportunities for licensed Massage Therapists.
Some places you may work at as a Massage Therapist include:
Spas
Salons
Clinics
Hotels
Fitness Centers
In Your Own Home or Other Space With Your Own Practice
The American Massage & Bodywork Institute is a wonderful massage school and I find myself often recalling happy memories from my seven months there. I also recommend it to other people considering getting into massage therapy. The instructors are very professional and knowledgeable and are always willing to go the extra mile to ensure your success.
Hands-On Experience in a Real Massage Clinic
Hands-on, practical learning extends beyond the classroom at AMBI. As an AMBI student, you will practice what you've learned in our Student Clinic. By practicing on real clients, you will gain work experience and confidence in your skills, and will feel ready to get out there in the exciting world of massage.
Get Prepared for the MBLEx State Licensing Exam
Anyone wishing to practice massage must first be licensed by the state. During your training at AMBI, you will receive help with preparation for the MBLEx state licensing exam, offered by the Federation of State Massage Therapy Boards (FSMTB).
Go into the exam feeling confident and prepared after taking 5 practice MBLEx exams before completing the program.
Convenient Location
AMBI's Massage Therapy school is located in beautiful Vienna, VA in the heart of Tysons Corner. Our campus is only 15-20 minutes from Washington, DC and a quick 20-minute drive from Arlington, VA. The Silver Line is nearby, and it takes our massage therapy school students directly (and quite effortlessly) into the city.
Is a Rewarding Career in Massage Therapy Right For You? Get More Info…
If you're interested in learning more about careers in Massage Therapy and exploring whether AMBI is right for you, fill out the form on this page to receive more information.
For immediate questions, call 571-620-7170
*Program length when completed in normal time
**https://www.bls.gov/ooh/healthcare/massage-therapists.htm#tab-6